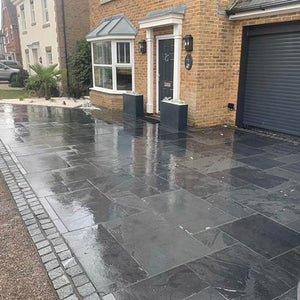 Our Grey slate paving stones have a higher density than Chinese or Indian slate. They are the best quality slate available if we do say so ourselves. All of the slabs have been hand split to give a natural surface, and have machine sawn edges for a clean contemporary look. Grey Slate paving stones contain predominant tones of medium grey with a very subtle green shade to them.
Our Grey Slate has been machine calibrated to a thickness of 20mm for ease of laying.
As with all of our natural stone paving, as they are individually cut and not moulded, each slab has a unique surface pattern, individual tonal variations and slight variations in colour. All of which combine to give Grey Slate it's charm.

Please note: due to the possible variations between batches on natural stone paving, we recommend mixing the stone when laying from multiple pack orders.
Our Slate is incredibly durable and is recommended for exterior patio use as well as for interior stone flooring.

Available Sizes (mm)
600 x 900mm, 800 x 400mm, 600 x 600mm, 600 x 295mm, 295 x 295mm
Unless slab sizes are specified when ordering, orders will be made up of a mixture of different sizes. All slabs are approximately 22mm thick.
All prices include vat. 

Delivery Information
Standard 3-5 working day delivery, depending on the size of your order. The delivery charge will be calculated once your order has been finalised.