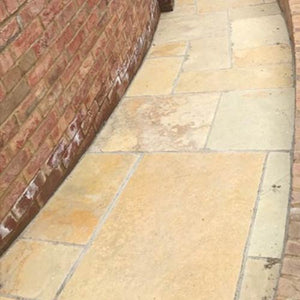 Trojan Lime (aka Yellow Limestone) is a textured, natural Indian limestone paving slab that has been hand split to give a riven finished surface. Our Holton Lime paving stones contain yellows and grey that combine to give an almost golden or bronzed effect, depending on the light.
As with all of our natural indian stone paving, as they are individually cut and not moulded, each slab has a unique surface pattern, individual tonal variations and slight variations in colour. All of which combine to give Holton Lime it's charm and ability to create an attractive paved area in any garden or landscape. Our Holton Lime limestone slabs have been ethically sourced from India. Limestone is an extremely sturdy, durable, and strong option for your patio. Maintaining its look and quality due to being able to stand up to both physical and environmental wear. However, please note that limestone is more susceptible to wear and tear from acid and may erode more than other materials if exposed to acidic substances, such as acid based cleaners.

Please note: Due to the possible variations between batches on natural stone paving, we recommend mixing the stone when laying from multiple pack orders.

We can recommend our Indian Limestone products for exterior patio use as well as for interior stone flooring.

Available Sizes (mm)
600 x 900mm, 600 x 600mm, 600 x 295mm, 295 x 295mm.
Unless slab sizes are specified when ordering, orders will be made up of a mixture of different sizes. All slabs are approximately 22mm thick.
All prices include vat. 

Delivery Information
Standard 3-5 working day delivery, depending on the size of your order. The delivery charge will be calculated once your order has been finalised.